Christmas Vineyard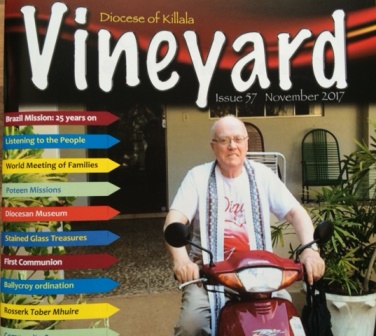 The Christmas issue of the Vineyard, edited by Fr. Brendan Hoban, is now available in all parishes.
It is filled with over 80 pages of beautiful photographs and articles on a variety of events throughout the diocese and beyond.
The Christmas issue features a special report on our Diocesan Mission in Brazil which will celebrate 25 years of continuity in 2018.
Also included in this issue is a comprehensive report on the Killala Diocesan Assembly – Putting Hope in Faith – a consultative process of listening to the people of our diocese regarding their views and opinions about mapping the way forward and formulating a Diocesan Pastoral Plan.
Copies of the Vineyard are available in all parishes at a cost of €2.
All monies raised from the sale of the Vineyard in a parish goes directly into parish funds.