Thomas Finan - Collected Writings
Canon Thomas Finan, a priest of the Diocese of Killala for 55 years and a former Professor of Ancient Classics in St. Patrick's College, Maynooth, is an original and...
Christmas Vineyard pays tribute to 25 years of Brazil Mission
The Christmas edition of the Killala Diocesan Vineyard Magazine will be available in all parishes this weekend and includes news and articles from parishes across the diocese.
It also includes...
Advent Calendar
Please click here for Advent Calendar


The first day of Advent heralds the beginning of the Catholic Church's new year. Advent (from 'ad-venire' in Latin or "to come to") is...
John Henry Newman: A Saint for our time? - An Open Lecture
To celebrate the canonisation of John Henry Newman,
the Newman Institute invites you to an Open Lecture,
John Henry Newman: A Saint for our time?
by Fr. Brendan Hoban, Diocesan Historian, Writer...
Bishop Fleming's SVP Christmas Appeal 2019
Pope Francis recently challenged all of us with regard to our concern for the poor. Quoting Psalm 34, "this poor one cried out and the Lord heard", the Pope...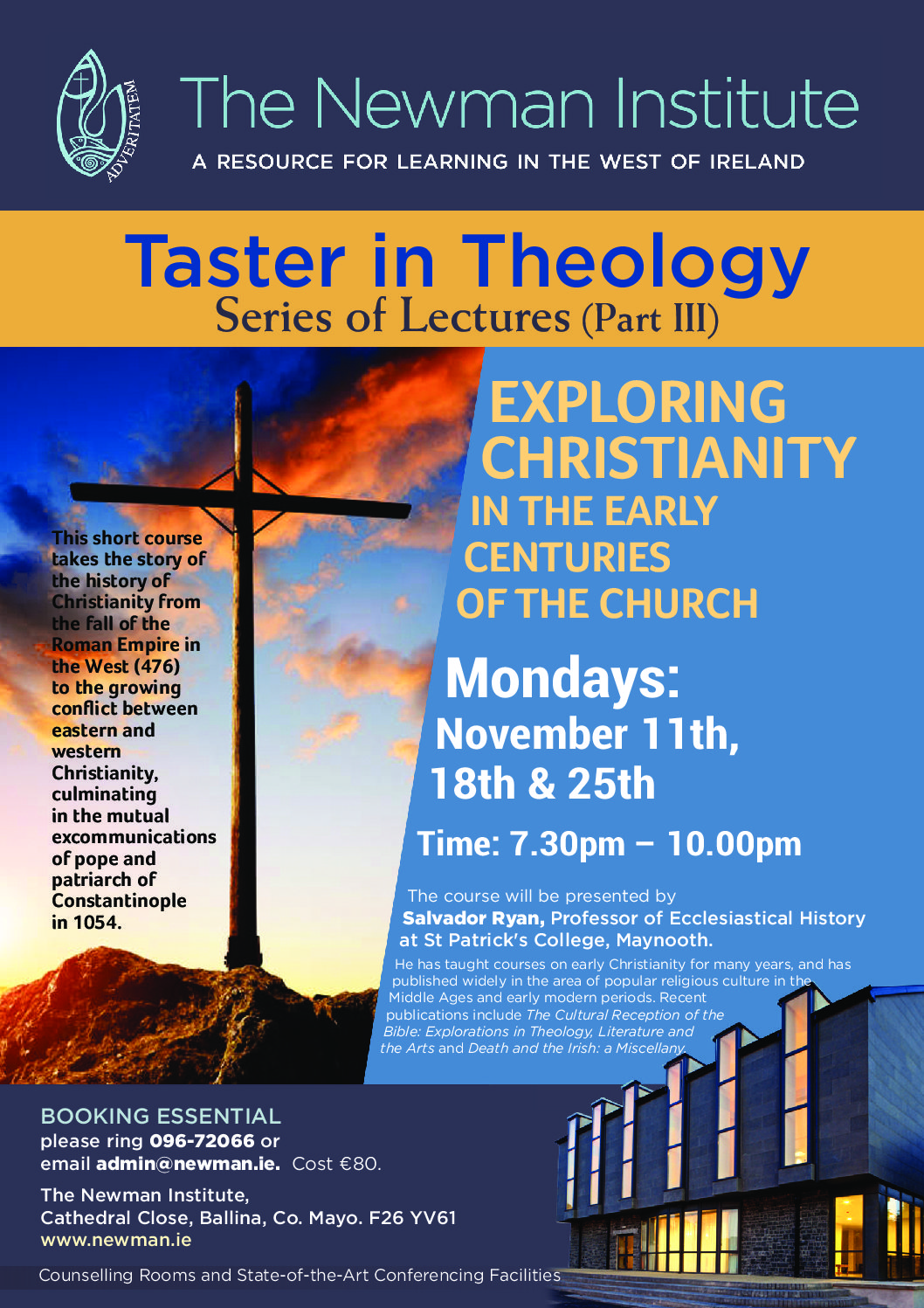 Taster in Theology Series - Newman Institute
Professor Salvador Ryan will facilitate the third in our series of lectures on Church History on Mondays, November 11th, 18th and 25th from 7.30pm to 10.00pm at the Newman...
Bereavement Course - Newman Institute
A four week Bereavement Course will be delivered at the Newman Institute, Ballina, on Thursdays, November 7th, 14, 21st and 28th at 8.00pm.
The course will be facilitated by Monica...
Day for Life
About Day For Life
Day for Life is celebrated annually by the Catholic Church in Ireland, Scotland, England and Wales. It is a day dedicated to raising awareness of the...
Dr. Mary McAleese to address ACP Conference
The Association of Catholic priests will host a conference entitled
"Women and the Church - Equality of opportunity?"
on Saturday, October 5th.
Please click here for full details.
Pope's appeal to pray, reflect and act to safeguard creation
"Now is the time to rediscover our vocation as children of God, brothers and sisters, and stewards of creation." Those were the Pope's words in a message released for...
CatholicNews.ie News Feed