Amoris Laetitia – The Joy of Love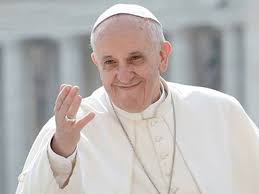 The second Apostolic Exhortation of Pope Francis was published on Friday 8 April 2016.
Amoris Laetitia (The Joy of Love) is Pope Francis' Post-Synodal Apostolic Exhortation on Love in the Family.
Amoris Laetitia runs to 261 pages and is divided into nine chapters as follows:
Chapter One – In The Light The Word
Chapter 2 – The Experiences And Challenges Of Families
Chapter 3 – Looking To Jesus: The Vocation Of The Family
Chapter 4 – Love In Marriage
Chapter 5 – Love Made Fruitful
Chapter 6 – Some Pastoral Perspectives
Chapter 7 – Towards A Better Education Of Children
Chapter 8 – Accompanying, Discerning And Integrating Weakness
Chapter 9 – The Spirituality Of Marriage And The Family
See full text here.