Diocese of Killala
Placing Hope in Faith
Synodal Pathway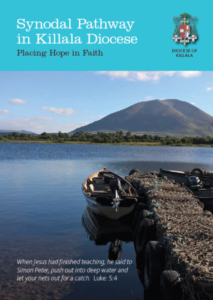 Please click here to read the full report of Placing Hope in Faith – Synodal Pathway in Killala Diocese.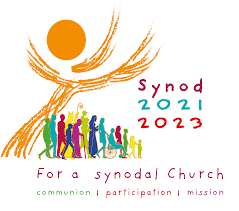 Background:
Stage 1: Listening and consultation (2017-2018)
Data from submitted questionnaires independently and confidentially analysed by the Institute for Action Research, Kerry.
At our Diocesan Assembly on Sunday, July 1st, 2018, over 300 delegates from the 22 parishes of our diocese voted on 129 proposals across different pastoral areas, prioritizing the top 5 or 6 proposals in each category.
Stage 2: Implementation (2018-2019)
Focus Groups were established with a view to outlining a process of implementation in respect of the proposals as voted by the delegates at the Diocesan Assembly under the following pastoral headings:
1. Family
2. Prayer/Pastoral Care
3. Women in the Church
4. Youth
5. Inclusion
6. Education in the Faith
7. Lay Participation
8. Vocations
9. Liturgy/Deacons
10. Management of Parishes
An Implementation Committee is coordinating this part of the process.
It is expected that Focus Groups will have completed their task by the end of 2019 as Placing Hope in Faith moves towards Stage 3 in 2020.
Stage 3: Action (2020…)
This stage will focus on the various action points across the ten pastoral areas with an emphasis on practical implementation of agreed proposals.
Placing Hope in Faith – Deanery Meetings
The Placing Hope in Faith initiative in Killala diocese, which began in 2017 is moving into its third stage.
The first stage asked: What can we do?
We answered that question through meetings, discussions, reflections and a diocesan assembly with 300 delegates from the parishes of the diocese that voted on a series of proposals.
The second stage asked : How do we do it?
We answered that question through a series of Focus Groups that offered specific suggestions.
The third stage, the Action stage, starts with four deanery meetings and directs us to 'Doing It!
March 9, Tyrawley North (Killala, Lacken, Ballycastle, Ballysakeery, Kilfian) in Newman Institute at 8.00pm
March 10, Tyrawley South (Ballina, Backs, Ardagh, Crossmolina, Addergoole, Moygownagh) in Newman Institute at 8.00pm
March 18, Erris (Belmullet, Kilmore, Kilcommon, Kiltane, Ballycroy) in Broadhaven Bay at 8.00pm (Postponed due to Covid-19)
March 19, Tireragh (Castleconnor, Kilglass, Easkey, Kilmacshalgan, Templeboy, Skreen & Dromard) in Easkey Community Centre at 8.00pm (Postponed due to Covid-19)
At the deanery meetings members of the diocesan Action Committee will present the first policy decisions to the priests and members of the Parish Pastoral Councils (PPCs) in that deanery.
As these meetings are absolutely crucial to the success of the Placing Hope in Faith initiative, we feel it is important that all the priests will be in attendance as well as all the members of the PPCs.
The diocesan initiative, presented at the deanery meetings, will begin to be implemented in September 2020 in all parishes of the diocese. Will this in mind it is vitally important that priests and members of the PPCs are in attendance at these crucial meetings.
Thanking you for your support to date,
Patricia Melvin, Peter McLoughlin, Anne Sweeney (Leaders);
Bishop John Fleming, Fr Brendan Hoban(co-ordinator) on behalf of the Action Committee.
*Deanery meetings were rescheduled for October but were postponed again as a result of further Covid-19 restrictions.
All meetings pertaining to Placing Hope in Faith recommenced in 2021 and the work of implementation continued in 2022.
New Parish Pastoral Councils were elected in all 22 parishes by Spring 2022, and the new Parish Pastoral Councils were commissioned by Bishop Fleming during the Chrism Mass in St Muredach's Cathedral. Workshops were held for the newly elected PPCs, after which they commenced the task of implementing the proposals adopted at the Diocesan Assembly.
The current phase of PHIF is focusing on the subject of Lay Leadership in our parishes. At a meeting held in The Great National Hotel on September 27th, 2022, over 170 PPC members from the diocese gathered with Bishop Fleming and the priests of the diocese to discuss the next phase of the journey.
A Certificate in Lay Leadership will commence in The Newman Institute in February 2023 in response to the expressed desire of people to have a formation programme aimed at empowering them and equipping them to fulfill their baptismal calling in their parishes.
Certificate in Lay Leadership: Theology, Culture and Ministry at the Newman Institute – over 65 parishioners from across the Diocese of Killala are in the process of completing a 2.5 year Certificate in Lay Leadership, a programme designed to enable and empower people to undertake lay leadership roles in their parishes. Modules include: Church History, Faith and Culture, Liturgy, Pastoral Ministry, Scripture, Moral Theology, Christology, Diocesan History, The Management of Parishes, Safeguarding and Garda Vetting, Canon Law and the Administration of Parishes. Course participants will have the opportunity to complete a Parish Pastoral Placement in one of five host parishes. For further details, please contact the Newman Institute on 096-72066 or email reception@newman.ie
For further updates and developments, please visit our Placing Hope in Faith Facebook page.