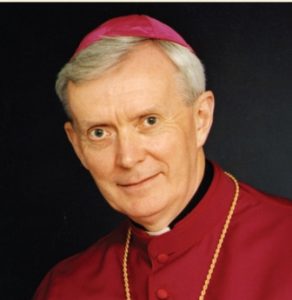 My friends,
At the end of this calendar year, as we approach the great celebration of the birth of the Saviour, I am happy to extend a word of thanks to all of you.
2019 has been another very busy year in the diocese of Killala.
Placing Hope in Faith – a listening process which commenced in 2017 – has given all of us an opportunity to listen to the needs of one another and to plan for the future of the Church in this diocese. 2020 will see us move into the third stage of the process – ACTION.
We will begin to implement decisions voted on by over 300 delegates at our Diocesan Assembly. Working together, in a spirit of listening and cooperation, we can build a solid future for the Church in this diocese and bring much needed hope to our world.
Work on the restoration of the Cathedral continues and the installation of the new wiring, lighting and sound systems has been completed. Plans for the next phase of the restoration are ongoing.
Many families have experienced great sadness during 2019. For them the joy of this Christmas will be tinged with sorrow. I take this opportunity to assure them of the support of our prayers. May the celebration of Christ's birth bring them new hope and courage.
I wish to sincerely thank you, the people of our diocese, for your continued support, and to wish you all every blessing in this holy season and every happiness in the New Year.