DON'T GIVE UP ON HER THIS LENT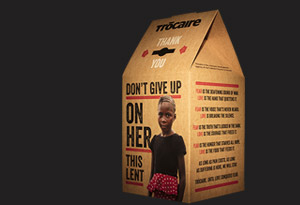 This year's Trócaire Lenten campaign focuses upon the Koroma family in Freetown, Sierra Leone who were affected by recent landslides in their area. This tragic event affected the Koroma family in various ways and cost them their home, possessions, work tools and changed the course of this family's future forever.
Click here to download the resources and to read more about this year's campaign.
Mass readings for Lent
Click here to access the daily Mass readings for Lent 2018.
[Note: The readings are not archived and are active for the day you click on to them only.]
Daily Lenten Prayer
Today Lord, I choose life,
I choose your love and the challenge to live it and share it,
I choose hope, even in moments of darkness,
I choose faith, accepting you as Lord and God,
I choose to let go of some part of my burdens,
day by day handing them over to you,
I choose to take hold of your strength and power ever more deeply in my life.
May this truly be for me a time of new life, of change, challenge and growth.
May I come to Easter with a heart open to dying with you
and rising to your new life, day by day.
Amen